(An interview with Nique Sanders by Europeana Creative, the designer of the software design and development company.)
Who is Webtic and what is your mission?
Webtic is a two-person company with a long history rooted in hacking and a great passion for design.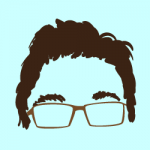 Paul Jongsma, the programming half of Webtic, taught himself programming and soldering as a boy at 17 and never lost the drive to learn new things and take on challenges in this ever-developing market. While working for SITA, which builds and maintains a 'closed Internet' for airline companies, he was one of the initiators of the Hack-tic network and later founded together with two other guys XS4ALL, the first public internet provider in the Netherlands.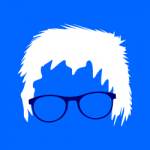 And I am the designer. I started out as a graphic designer, but picked up the abilities of a user experience designer, information architect and manager along the way. Depending on the assignment, we work together with other programmers, designers or interface gurus to create exactly the right product for the contractor.
Our main drive is always to bring more to a project than expected, and to build an innovative product together with all the people involved, from contractor to casual visitor.
What is your role in Europeana Creative?
Under the flag of Europeana Creative, together with EUROCLIO and USEmedia, Webtic is creating new and innovative tools for teaching and assisting in building the Europeana Creative website.
Within the time span of two years, we are creating:
a learning section for the existing website Historiana.eu, where teachers can attach and share their own learning activities;
a search-and-select tool, where sources can be enriched with metadata specially developed for historians; and
two tools for learning.
The tools are used to compare and contrast cultural heritage sources and to analyse visual sources. We focus on a new way of teaching where students are in control of their own learning process and where the teaching takes place beyond the text book. All this will be built on the framework of Historiana, which was created earlier and which will be adapted to enable the creation and maintaining of heavily interconnected information. Our goal for this project is to give meaning to the cultural heritage available through Europeana and to create innovative learning tools that seamlessly fit with the way teachers would like to work.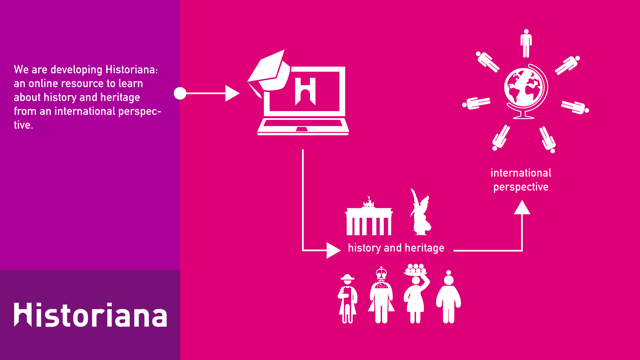 What do we do? (CC BY-SA Webtic)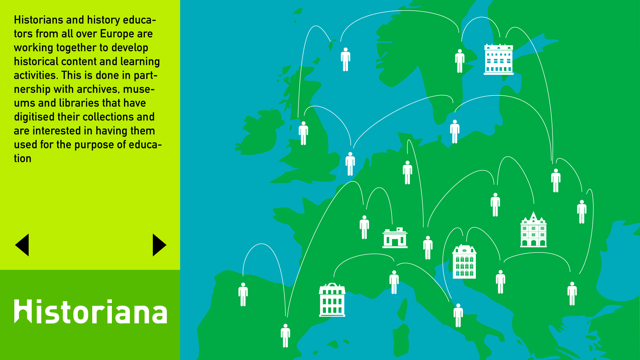 How do we do this? (CC BY-SA Webtic)
What are the main challenges you face?
There are certainly some challenges along the way. We definitely had to be flexible and go with the flow. But working with such a great pool of people with such diverse backgrounds and cultural differences is great. It did shake us up and we learnt a lot from listening to other arguments, ideas and different opinions.
Tell us about the pilot you are working on. How did everything evolve?
With a team of people that consists of such diverse backgrounds, it is important that everybody participates in each other's work. There are no boundaries between the work of a designer, a teacher or a developer. Everybody involved needs to know how students learn nowadays, how they communicate and how teachers with different cultural backgrounds can build their material without great technical restrictions.
And also the educational work field is changing. Nowadays it is so much more than just a textbook. Looking for ways to exploit the technical opportunities and use them to the benefit of the students' learning process is challenging and fun.
We're still looking for ways to create a solid business model around the pilot. In a market where schools are challenged to do more with less budget, it's all about being creative, not only financially but also about the future of developing.
With a team that is used to building something as it comes along, we needed a lot more structure than we're used to. Agile development, scrum meetings and Google Hangout calls are really new to us. We are picking up these methods along the way.
We have now been part of the process for over one-and-a-half years, and every time we're still challenged to improve and excel.
More information on the History Education Pilot can be found here or here.
What advice do you have for developers who want to work with Europeana content?
For people who are working with Europeana content, we have just one bit of advice: Dive into it and play! Have fun and build something unique, give students something challenging and – to use a buzzword – 'flip' that traditional way of teaching!
"Take on the Challenge and play!"
What piece of advice do you want to give others working on similar projects?
Be bold, be yourself and have a goal. Keep the building fun and do not listen to us…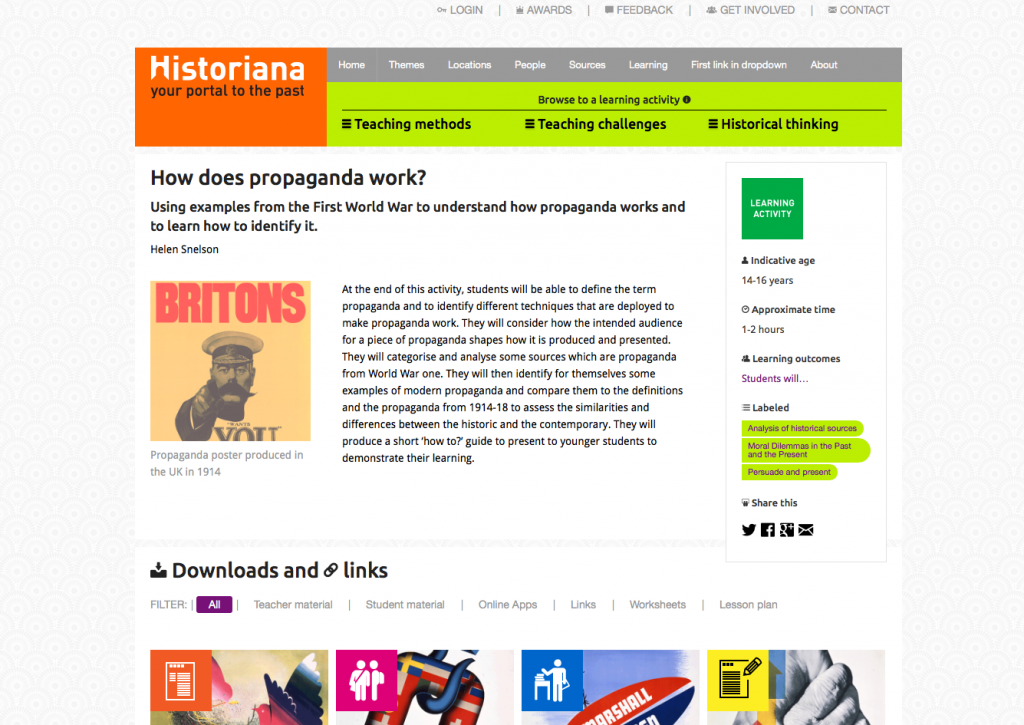 A screendump of an online learning activity that glues all the different elements
(apps, teacher and student materials) together (CC BY-SA Webtic).