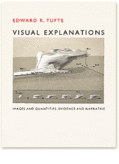 Op 28 januari 1986 explodeerde de Challenger door een lekkende O-ring. Onderzoek na de ramp liet zien dat dit veroorzaakt werd door een lekkende O-ring. Ingenieurs hadden de dag voor de lancering data overlegd aan de beslissingnemers dat hun advies moest onderstrepen, de dag van de lanchering zou te koud zijn om de Challenger te lanceren. Terwijl het Snow juist door de visualisatie lukte om iedereen te overtuigen ging het hier mis. Daar zijn zeker meerdere redenen dan alleen de visualisaties voor aan te wijzen. Edward Tufte concentreert zich in zijn boek 'Visual Explanations: Images and Quantities, Evidence and Narrative' vooral op de visualisatie van de data tijdens het onderzoek wat volgde na de ramp.
Hieruit komen vier principes naar voren.
1. De legenda moet te allen tijde zichtbaar en helder zijn. Tijdens een hoorzitting na de ramp werd er een powerpoint presentatie gegeven waarbij alleen de eerste slight de legenda liet zien.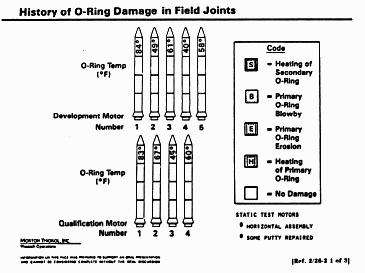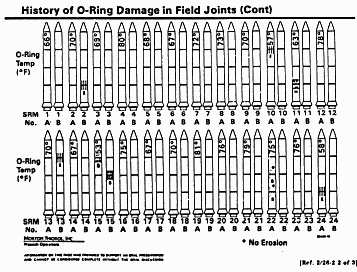 2. De data moet de aandacht trekken, niet de vormgeving. Chartjunk noemt Tufte dit. De visuele elementen in de grafiek,de raketten, zijn zo zwaar vormgegeven dat de daadwerkelijke informatie, de temperatuur, wegvalt.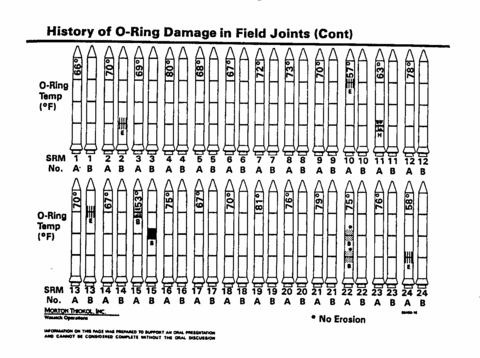 3. Communiceer oorzaak en gevolg helder. Door een lastig te lezen typografie, verticaal geplaatste cijfers en weinig witruimte moet een gebruiker moeite doen om alle informatie te lezen. Het gaat hierbij dus niet alleen om een slecht ontwerp maar ook om een gebrek aan visuele helderheid.
4. Kies voor een goede ordening van de data. De raketten worden geordend op basis van lanceervolgorde (1, linksboven, 24, rechtsonder). Ze stellen zich hierbij de vraag 'Is er een trend in tijd te zien bij de beschadigingen van de O-ring?' Maar de vraag moet zijn, gebaseerd op het oorspronkelijke advies van de ingenieurs, 'Is er een trend in temperatuur te zien bij de beschadigingen van de O-ring?' Tufte heeft een nieuwe grafiek gemaakt gebaseerd op de voorhanden zijnde data:

Bronnen
Visual Explanations: Images and Quantities, Evidence and Narrative, Edward Tufte, Graphic Press, 1997.
The Challenger: An Information Disaster. Tog on software design.
Viewgraphs. Ron Graham with Wolfgang Hees and Lisa Henn.
Representation and Misrepresentation: Tufte and the Morton Thiokol Engineers on the Challenger by Wade Robinson et al,Science and Engineering Ethics (2002) 8, 59-81. (pdf).